The experience of playing and earn money has always been a trend that has captured the hearts of investors and players, If real life inhibits everyone's ability to "conceal", then Herobook will create opportunities for everyone realize its potential. Herobook aspires to create a world where everyone can unleash their creativity, think inquisitively, interact and join hands to realize the common good.
Hero Book aims to become a Metaverse that connects Blockchain games network and traditional games in the international game market.
HeroBoox launches HeroLand
Heroland is a 1:1 virtual version of our Mars. This virtual Mars is divided into 16,700,000 pieces of land. Of these, 1/3 of the pieces located in the light area can be purchased and 2/3 of the pieces will be unlocked at later stages of the project through the conquest game mode.
Heroland Metaverse will be a place where all the characters and items in HBG's ecosystem meet each other through NFT connection technology and virtual reality, players will have an extremely real and interesting experience that Hero brings again.
Not only can players play, but at Hero land players can also buy and sell virtual goods from different games and universes on interactive platforms of virtual universes.
Not only that with Heroland, users can completely create a world of their own. The only thing that can be limited is your creativity, which in the real world investors – players have not done, at HeroBook you will do it. HeroLand takes on a whole new dimension that will bring things beyond the reach of the Balte-to-Earn Game series.
VISION Become the Metaverse for the HBG ecosystem, where anyone can join and create a new world.
MISSION In the future to become a Metaverse connecting many different ecosystems and projects. Since then, together gradually erase the boundary between the real world and the virtual world, realizing the Metaverse dream of mankind.
CORE VALUE We want Heroland to be the first Metaverse game that truly community owned and built. Thereby creating a healthy community and value flow in the game.
Land rewards programs are extremely attractive and unique.
Bringing the spirit of "start-up" and accompanying investors – players, HeroBook always creates investment and development opportunities from the moment it begins to "touch" the world of Hero.
You will Receive 5 HGB tokens and 1 character at HerboBook and 1 piece of land at Hero Land. Be one of the first members allowed to participate in the Alpha Test version of HeroBook.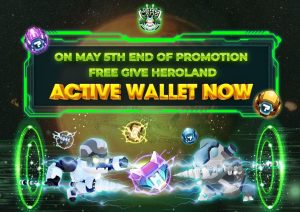 That is, when the player has just started the experience, he has received unique property values ​​for his world.
Own your world with Heroland
You absolutely can own, buy, sell, rent land in this world, when owning land, players can use their NFT Hero to build as well as exploit works that generate income.
Depending on the condition of the land and the building, the player can receive different types of resources or HBG Tokens. There are 5 main types of resources for Heroland world: HBG token, Oxygen, Electric, Heronium, Herostone.
Some activities in the Game help you conquer your own world:
– Buying, selling, owning and leasing land;
– Use character NFT to mine land to generate HBG and minerals;
– Construction of works that create value and income;
– Create your own NFTs/games;
– Build an army, conquer new lands and get rewards;
– Connect and interact with people and friends in the virtual world.
Land system
There are a total of 16,700,000 pieces of land on Mars. Divided into 167,000 lots (10×10 pieces each) and divided into different phases.
In phase 1, there will be 5,560,000 plots of land (55,600 lots) open for sale at 38 HBG/piece ($1.6 at TGE), players can buy 1 lot (10 x 10 pieces) 1 time for 3,800 HBG/ lot (about $167 at TGE). After owning the land, players can completely build their avatar/logo or insert their link to mark their territory and advertise. Based on the available product (Land) platform from which players will build, develop, own and trade on those product values to make a profit or can expand the territory quickly and efficiently. through the Farming System based on the Character System and can optimize the benefits of expansion using the Base – Mining System.
Referral Policy
Real estate sale policy:
The referrer directly receives 3% of the sales from the referred person with the condition: the referrer buys at least 1 plot of land in the sale to enjoy this policy and the commission received will be paid in HBG.
Farming policy for responsibilities:
– The referrer will receive 8% of the referral's Farming income;
– The referrer will receive 50% of the referral's income;
– For example: The person you refer farming land 20 HBG, you get 1.6 HBG, the person who refer you get 0.8 HBG.
Why should join Heroland
HeroBook is considered as a platform that will bring unprecedented breakthrough in the world of Metaverse, with the combination of 3 products Heroland, Herobook and Herocard transcendental will always bring sustainable value never before in Blockchain and Gaming.
Just like real real estate, the potential for price increases of virtual real estate (multiplying many times within 1 year) and not just the real estate but the value of the owner.
The platform has a large number of players the opportunity to earn money from advertising.
Passive income based on mining and ownership.
Building your own virtual business is what an investor aspires to in the real world, now you can absolutely make things great.
The vision is to become the leading Metaverse, where people can truly interact with each other to create a Hero community based on fairness, transparency and mutual benefit.
Owning plots of land near the mine, with the ability to collect taxes on players participating in mining, create a passive income stream through the systems available in the Herold program.
Project roadmap
Land Auction Program
Auction content
In order to enhance the value of Land products as well as create a fair playing field, HeroLand also organizes auction programs in different phases with different types of auctions.
On the map will appear 4 Heronium mines and 4 Herostone mines. Each mine will occupy 100 lots of land (can not buy land on the mine). The plots of land near the mines will have an advantage in the mining travel distance as well as can collect taxes from members passing by, thereby generating outstanding profits, 5% of the land adjacent to the mines will be auctioned through through a special program.
With the outstanding advantages and superior features of the Heroland program, we firmly believe that this is an opportunity not to be missed by investors – real players always want to find, conquer, own and build an "empire" of its own. Join now to experience with us!